Our methodology…
Since our formation, Neos have been trainers and consultants in a very wide range of subjects using the latest 'brain-based' learning techniques. We pride ourselves with linking cutting edge research about how we learn with a practical focus on what we learn. This unique blend allows us to achieve outstanding results in all that we do.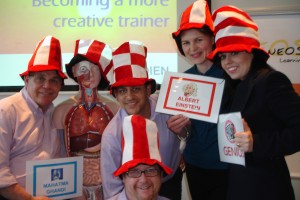 How we do, what we do
These methodologies, including 'Accelerated Learning', are a series of techniques which, when combined effectively, maximise learning to ensure greater course content, in a faster time period, with significantly reinforced memory and an enhanced ability to recall the information than would be the case with conventional training. We believe that these components are vital to any organisation that wants value for money from their training programmes. Our knowledge in this area, our development of new techniques and models, and our reputation, has led to us working with a number of successful organisations who want to be at the 'cutting edge' of training.
A fundamental part of the ethos is our obsession with the practical application of the learning to the daily roles of professional delegates – we train and advise for the implementation of ideas, concepts and techniques into people's jobs, not for mere academic interest or cerebral enhancement.
The Neos Methodology